Export businesses offer plenty of benefits and opportunities to a country and help boost its economic aspects, especially at a time when Covid is jeopardizing the economic might of the global economy. Export widens the consumer's base and expands business network which further increases profits exponentially. It also provides opportunities to reach out to many diversified markets so that even if the domestic economy begins to crumble, you may still have other growing markets for goods and services.
It's well-known fact how exports fuel growth and sustain a country's economic engine and further, aids to national prosperity and well-being, therefore, India's self-sufficiency and economic well-being assumes an epidemic proportions vis-à-vis Exports. One such opportunity comes along "The International North South Transport Corridor" (INSTC) which connects India with Central Asia, Russia, and has the potential to envelop Baltic, Nordic, and Arctic region, manifesting multifold jump in trade opportunities.
It provides India with a shorter trade route with Iran, Russia, and beyond Europe, developing potential for amplified economic activities. Moreover, the INSTC could be a great proposition when viewed from the Ashgabat Agreement and remains crucial to India's "Connect Central Asia" policy.
What is the INSTC?
The INSTC is a 7,200 km-long multimodal transportation network encompassing sea, road, and rail routes to offer the shortest route of connectivity. It links the Indian Ocean to the Caspian Sea via the Persian Gulf onwards into Russia and Northern Europe. It is aimed at reducing the carriage cost between India and Russia by about 30 percent and bringing down the transit time by more than half.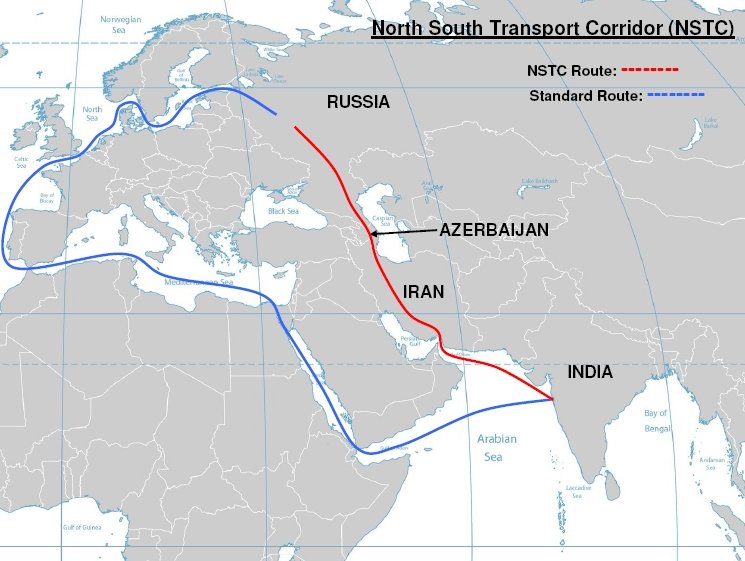 It was launched in 2000 with India, Russia, and Iran as its founding members and work on actualizing the corridor began in 2002. Since then, INSTC membership has expanded to include 10 more countries – Azerbaijan, Armenia, Kazakhstan, Kyrgyzstan, Tajikistan, Turkey, Ukraine, Syria, Belarus, and Oman. Bulgaria has been included as an observer state. The Baltic countries like Latvia and Estonia have also expressed willingness to join the INSTC.
Building blocks of INSTC: Transport routes and modes
The INSTC consists of three wings and crosses over countries which are as follows:
Central branch: It begins from the Jawaharlal Nehru Port in India's western state of Maharashtra (in the Indian Ocean Region) and connects to the Bandar Abbas port on the Strait of Hormuz. It then passes through the Iranian territory via Nowshahr, Amirabad, and Bandar-e-Anzali, runs along the Caspian Sea to reach the Olya and Astrakhan Ports in Russia.
Western branch: It connects the railway network of Azerbaijan to that of Iran via the cross-border nodal points of Astara (Azerbaijan) and Astara (Iran) and further to Jawaharlal Nehru port in India via sea route.
Eastern branch: It connects Russia to India through the Central Asian countries of Kazakhstan, Uzbekistan, and Turkmenistan.
Expected Transport and Logistics Gains
The INSTC envisages development and simplification of transportation services by which both goods as well as passengers stand to gain. Additionally, it presents an enhanced market access to the member nations through various Intra and inter-connections.
Riding high on these indispensable benefits, member nations can turn themselves into logistics and transit hubs and at the same time creating opportunities galore to morph themselves into manufacturing hubs through multiple avenues of infrastructural development. It puts high emphasis on enhancing route security while maintaining ecological principles. Some of the possible gains are listed below:
Short distances and faster deliveries lead to cost reduction.
Increased market access along with creation of new markets.
Facilitation of transit by helping develop regional transit and logistics hubs.
Creation of regional supply chains across Eurasia.
Increased trade volume between member nations.
Supply of energy as a commodity.
Synchronization of INSTC with Ashgabat Agreement and Organization of the Black Sea Economic Cooperation (BSEC).
Potential materialization of free trade agreements (FTAs) in the region.
Possible synchronization with Baltic, Nordic, and Arctic corridors in the future.
Beneficiary sectors
The sector that stands to gain is perishable goods, including fruits and vegetables that accounts for more than 50 percent of India's export basket to the European Union.
Few more sectors that stand to benefit are high value items like ATMs, industrial printers, 3D printers, robotic assembly accessories, etc.
India aims to establish itself as a leading manufacturer of pharmaceuticals, electronics, aircrafts and accessories, etc. and these Indian manufactured goods can find attractive markets along the INSTC corridor. Another sector poised to benefit the most out of this corridor is cross-border e-commerce.
Other important sectors that can expect a surge in exports are:
Agriculture and allied products
Articles of apparel
Engineering – aircrafts and parts thereof
Organic chemicals
Rubber and articles
Optical, photo, and medical instruments
Project exports pertaining to petroleum, heavy engineering, and hydrocarbon sectors
The Way Forward
In order to actualize all the potential advantages a lot more needs to done in terms of finance, cooperation, political will, as well as strategic planning. The ambitious INSTC requires a comprehensive, well-knit and dedicated source of funding to bear the fruits,which is unfortunately absent at the moment.
Nevertheless, INSTC provides a unique breakthrough to India's hot pursuit of increased exports and multi-national collaboration. Development of Special Economic Zones (SEZ) and Industrial parks and creation of various manufacturing and service facilities along the route will most certainly pay rich dividends. Thus, helping not only India but also all other stakeholders to foster a strong and robust economic integration.
SOURCE: logisticsinsider.in